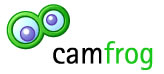 Review by Norman Williams

(Click for video clip version)
Have you ever wanted to "chat" with signing deaf people from around the world without leaving your own home? If you have a webcam, a PC or Mac, and high speed Internet, now you can, using a popular program called Camfrog. Camfrog is a text and video chat program and is available in two versions: A free version (with limited features) and a PRO version for $49.
What are the benefits of CAMFROG?
Many different webcams are supported.
There are hundreds of deaf people using it at a time.
You can see a group of people, or just communicate one-to-one.
People can sign easily to each other.
There are deaf people on-line from around the world, so you can learn new signs.
What are the differences between the FREE version and the PRO version?
FREE Version:
The features included in the free version are more limited, but they may be sufficient for casual users. You are only able to view one video (a person or a group) at a time in the chat room. If you want to chat with another person in a different video window, the first chat will automatically close when you switch to the new chat. Also, the buddy list is not sortable in this version.
PRO Version:
The PRO version allows simultaneous video chats (more than one video window) at the same time. The buddy list also allows sorting.
How do I find a Deaf chat room?
Finding a Deaf chat room is easy. There are several rooms with "DEAF" in the room name. They can be found in all categories. When starting the program, click on VIDEO CHAT ROOMS. Try both categories: CAMFROG and GENERAL. Many rooms are for Deaf Italy, Deaf Germans, Deaf Poland, Deaf USA, Deaf Russia, Deaf Mexico, and so on. It's okay to join a chat room from a country other than your own for friendly visits as long you can do international signs.
Are there any "Rules" for chatting in Deaf rooms?
There are some "rules" for chatting in Deaf rooms. Each room has one or more moderator. One of the moderator's jobs is to be sure that all of the people in the room can sign. When entering a room, a moderator (with a red or green label on their name in the buddy list) may send you a text message asking you to sign to them. If someone is not able to sign, they will be kicked out. When you have been approved to enter the room by the moderator, your name on the users list will change from black (unverified status) to blue (member). You can then participate in the chat.
Are there any special signs I should know before entering a Deaf chat room?
There are several "universal" signs that are useful to know. For example, when a moderator signs "house" you are being asked which country you are from. After I responded that I was from the USA, I then asked them where they were located. Because of the time differences, when it is daytime in the US, most of the users online will be European because it is night-time there.
It is also common to be asked for a "name sign" to be used to identify you while you are in the room. That way, when someone wants to talk to you, you can recognize your name sign and you can respond.
The other sign I encountered is two "9" signs made in a circular motion. This sign means that your chat friend can't see you, and originated from an animated Camfrog video window with the eyes moving in circles. Sometimes they are unable to see you because of Internet slowness. Your video to them may show up a minute later. In this case, they are unable to verify that you are someone who can sign, and might kick you out of the room.
It is a normal behavior to get someone's attention by waving a hand very close to the webcam. It may look rude, but it helps to get someone's attention.
How do I know if a person is looking at me?
There is a webcam icon on the upper left corner of the receiving video window with an eye dot in it like this: (From the above graphic, the upper head person can see you while the lower head person does not see you). If there is no "eye" in the webcam icon, it means they do not see you. If you look at a person too long and they do not know you, they may ask you to turn off the video chat window with the person.
Give it a try!
If you're interested in meeting new Deaf people from the comfort of your own home, give it a try! All you need is a PC or Mac, webcam, and high speed Internet.
The web site can be found at: www.camfrog.com

Back to home page