Having pioneered emergency notification technology in the early 1980s, DCC provides a range of communications solutions, proven to meet the unique needs of any organization. In addition, the company offers a comprehensive training program and 24/7 technical assistance, enabling our customers to receive education and support at all times. For more information, visit our website at www.dccusa.com.
EAD & Associates, LLC is a unique, woman-owned small business that provides expertise in emergency management and special needs planning, a distinct discipline that ensures that people are prepared for man-made or natural disasters and emergencies and their consequences.
From its headquarters in New York City, EAD & Associates, LLC works to improve emergency mitigation, preparedness, response and recovery efforts on the local, state and federal levels, as well as internationally. With a specialty in integrating special needs issues in all phases of emergency management, EAD & Associates, LLC brings awareness, information and real solutions to both the private and public sectors to ensure safer communities for ALL individuals.
EAD & Associates, LLC provide a spectrum of expertise and advisement in various areas, including:
Develop plans, planning templates and strategic methods

Special needs issues

Emergency management

Specialized equipment and services selection

Evacuation standards for business, buildings and public space

Regulatory mandates

Emergency sheltering

Effective communications

Targeted public education and outreach

Drills/Exercises

Operational capabilities and teams for field responses
EAD & Associates, LLC is at the forefront of this vital, ever-changing discipline and prides itself on its proven record of success in the design, implementation and management of emergency and special needs programs.

The Federal Communications Commission (FCC) is an independent United States government agency, directly responsible to Congress. The FCC was established by the Communications Act of 1934 and is charged with regulating interstate and international communications by radio, television, wire, satellite and cable.
1-888-CALL-FCC (1-888-225-5322) voice
1-888-TELL-FCC (1-888-835-5322) TTY
http://www.fcc.gov
E-mail: INFO@fcc.gov
Interagency Coordinating Council on Emergency Preparedness and Individuals with Disabilities
The Interagency Coordinating Council on Emergency Preparedness and Individuals with Disabilities was established to ensure that the Federal government appropriately supports safety and security for individuals with disabilities in disaster situations.
The purpose of the Council is to:
Consider, in their emergency preparedness planning, the unique needs of agency employees with disabilities and individuals with disabilities whom the agency serves;
Encourage, including through the provision of technical assistance, consideration of the unique needs of employees and individuals with disabilities served by State, local, and tribal governments, and private organizations and individuals in emergency preparedness planning; and
Facilitate cooperation among Federal, State, local, and tribal governments and private organizations and individuals in the implementation of emergency preparedness plans as they relate to individuals with disabilities
Phone: 202-401-5815 TTY: 202-358-2392
Email: disability.preparedness@dhs.gov
http://www.dhs.gov/disabilitypreparednessicc

Krown Manufacturing, Inc., located and headquartered in Fort Worth, Texas, manufactures various types of products for the hearing impaired including TTY devices, amplified telephones, telephone accessories and alert notification devices. A specialized emergency alert monitor called the KA300 is designed to alert users of any type of emergency such as fire, smoke, carbon monoxide, weather and much more. This system is currently used in many locations throughout the US and has been proven to be an effective product for those who are deaf, hard of hearing, low vision and deaf/blind.
Contact Info:
Bryan Davis
Marketing/Sales Director
Krown Manufacturing, Inc.
3408 Indale Road
Fort Worth, Texas 76116
817-738-2485 (V)
817-738-8993 (TTY)
87-738-1970 (FAX)
800-366-9950 (Order Hotline)
www.KrownMfg.com
BDavis@CompuTTY.com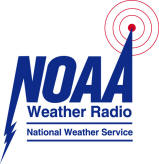 NOAA Weather Radio (NWR) is a nationwide network of radio stations broadcasting continuous weather information direct from a nearby National Weather Service office. NWR broadcasts National Weather Service warnings, watches, forecasts and other hazard information 24 hours a day.
Working with the Federal Communication Commission's (FCC) Emergency Alert System, NWR is an "all hazards" radio network, making it your single source for comprehensive weather and emergency information. NWR also broadcasts warning and post-event information for all types of hazards--both natural (such as earthquakes and volcano activity) and environmental (such as chemical releases or oil spills).
Known as the "Voice of NOAA's National Weather Service," NWR is provided as a public service by the National Oceanic & Atmospheric Administration (NOAA), part of the Department of Commerce. NWR includes more than 930 transmitters, covering all 50 states, adjacent coastal waters, Puerto Rico, the U.S. Virgin Islands, and the U.S. Pacific Territories. NWR requires a special radio receiver or scanner capable of picking up the signal.
NOAA, National Weather Service
Office of Climate, Water, and Weather Services
1325 East West Highway
Silver Spring, MD 20910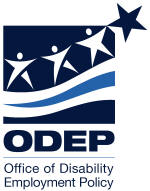 As a catalyst for change to increase employment opportunities for people with disabilities in the American workforce, The Office of Disability Employment Policy provides national leadership through disability-related employment policy and practice.
The Office of Disability Employment Policy (ODEP) assumed a leadership role on the Interagency Coordinating Council as chair of the Subcommittee on Emergency Preparedness in the Workplace. The subcommittee has developed Preparing the Workplace for Everyone, a framework of guidelines for federal agencies related to including employees and visitors with disabilities in emergency plans.
These activities, in addition to technical assistance available through ODEP's Job Accommodation Network (JAN), other publications, and the many resources on DisabilityInfo.gov, have enabled ODEP to assume a lead role in ensuring emergency preparedness efforts fully consider and include individuals with disabilities.
Website: http://www.dol.gov/odep/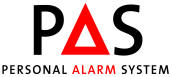 Notifying occupants about a building emergency has evolved over the years. From bells and horns to the visual strobe lights developed in response to the American's With Disabilities Act of 1990. PAS and SimplexGrinnell are looking at additional ways to inform, direct and save lives.
One of these new solutions is Personal Alarm System (PAS). Developed with the deaf and hard of hearing in mind. The system employs a local transmitter as part of the fire annunciating system for the building's fire alarm system. PAS takes advantage of existing pagers and broadcasts a code which PAS enable pagers can recognize. This gives us the ability to get important, detailed information to the deaf and hard of hearing in a timely manner.
PAS provides a level of notification previously limited to a few sites around the country. "We now have the ability to take advantage of an existing infrastructure and expand the impact of our detection and notification equipment".
PAS - Personal Alarm System
19749 E. Augustus Ave.
Queen Creek, AZ 85242
1pas@cableaz.com
Contact: Dan Merrell, President
480-203-6853 (Voice)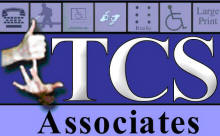 TCS is a total accessibility solutions provider. It is a small disadvantaged and woman owned business, certified as an 8(a) company by the Small Business Administration. We have been in business for 24 years.
TCS Associates provides a full range of Assistive Technology products and services including; 508 consulting, ADA compliance assistance, products, needs assessments and training for individuals who are blind, low-vision, deaf, hard of hearing, and/or mobility-impaired. TCS Associates provides federal agencies with the NTS system which communicates with deaf and hearing employees during emergencies.
Contact: Dana Marlowe, Director of Marketing and Communications
Phone: (301) 942-9768
Fax: (301) 942-9110
Email: dana@TCSassociates.com
Website: www.TCSassociates.com