To download this video (in MP4 format),
click here
Home alerting devices for people who are deaf or hard of hearing
The Gallaudet University Technology Access Program has been working on visual access to smart homes under a grant sponsored by the Consumer Technology Association Foundation.
Are you deaf or hard of hearing and miss important things going on at your home, for example: doorbell ringing, door knocks, incoming telephone calls, fire alarms, motion alarms, and water leaks? Are you tired of buying special equipment at specialized stores for the deaf and hard of hearing? Would you rather use the same smart home devices that everyone else has? Or are you hearing and would prefer visual notifications?
Then our work is for you. And, psst, we'll let you into a secret: the answer is yes to all these questions for us, too!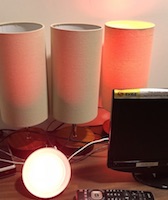 Our work lets you set up notifications via flashing lights. You can customize the colors and patterns as you like. And best of all: it works with already existing off-the-shelf smart home devices. You don't have to buy special equipment for the deaf and hard of hearing that no one else uses.
Our project currently works with Samsung SmartThings and If-This-Then-That (IFTTT), and we are looking into supporting other smart home hubs in the future.
Here is a list of hardware and functions that we currently support:
Smoke alarm
Video doorbell
Logitech POP smart button for use as a doorbell
ZWave smart button for use as a doorbell
Wired chime box doorbell
Door knock sensor
Panic button
Water leak detector
Motion detector
Incoming phone call
Lights that we currently support:
Lifx WiFi-enabled A19 light bulbs
Philips Hue A19 light bulbs
Philips Hue bloom light
Philips Hue strip light
Strobe light (for fire alarms)
We are starting user trials soon. If you are interested in receiving updates about this project, please sign up by sending email to smart.home@gallaudet.edu.
The user trial study has been approved by the Gallaudet University Institutional Review Board.

Back to home page